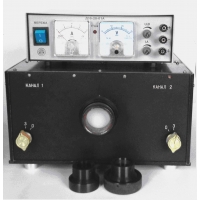 Installation for measuring the energy characteristics of electron-optical devices sensitive in the IR range

The unit is designed to measure energy characteristics, determine the nonlinearity of the conversion of the input optical signal to the output electrical and dynamic range of photodetectors and electro-optical devices sensitive in the IR range of the optical radiation spectrum
Main technical characteristics
The maximum level of generated energy illumination is not less than 20,000 W/m-2.
The instability of the radiation flux - no more than ± 1.0%.
The power supply of the installation is 220 V, 50 Hz.
Power consumption - no more than 800 VA.
Time of continuous work: 1 hour of work, 30 min.
interruption at a current of 10 to 20