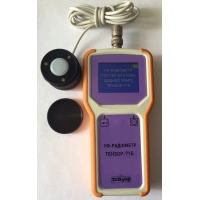 Producer - "Tenzor", LLC, Scientific and Production Company
Supplied with state verification
Appointment
UV Radiometer Tenzor-71B
Tester of bactericidal lamps and UV irradiators
Specialized device for measuring energy light (intensity) created by mercury bactericidal lamps with a working wavelength of 254 nm with direct removal of the measurement result in μW/cm2
Application
Quality control of bactericidal lamps and UV irradiators during production.
Checking the performance of a bactericidal lamp, including to continue its resource.
Assessment of the distribution of UV radiation on the premises.
Storage
It consists of a measuring unit and a radiometric head.
Additionally, at the request of the customer, the delivery device with the battery can be included.
Basic technical characteristics
Wave wavelength 254 ± 2 nm.
Energy Light measurement range (intensity) 0.1 - 1000 μW/cm2
Discreteness of the impressions of 0.01 μW/cm2
The limit of the main relative error of measuring energy light ± 10 %.
Display: graphic.
The angle of view of the device corresponds to the cosine law.
Control:
1 button on and off the device.
1 Control button
Power: four standard 1.5 V AAA battery.
The device comes with a certificate of calibration according to DSTU ISO/IEC 17025