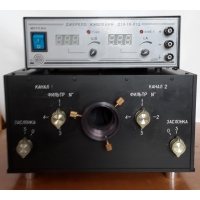 Stand for creating stable radiation fluxes when measuring energy characteristics and sensitivity nonlinearity of electron-optical devices ИДНM4.004.00.00

Designed to measure energy characteristics, determine the nonlinearity of the conversion of the input optical signal into an electrical one, and to determine the dynamic range of photodetectors and electron-optical devices.
Main technical features
The maximum level of illumination is not less than 100,000 lux.

The instability of the radiation flux - no more than 1%.

Attenuation resolution factor: 10±30%; 100±30%; 1000±30%.