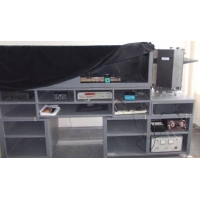 Installation for measuring light parameters of optoelectronic devices ИДНМ4.003.00.00

Complete with a stand for creating stable radiation fluxes ИДНM4.004.00.00 is designed to verify measuring instruments in terms of luminous intensity, illumination and brightness in accordance with the state verification scheme DSTU 3394.
Main technical characteristics

The main relative error in the transmission of light units by the method of indirect measurements ΔεВ, 3%.
Illumination measurement range - from 1×10-3 to 1.2×105 lx
Light intensity measurement range - from 1 to 2×105 cd
Brightness measurement range - from 7 to 1.2×105 cd/m2
Unit power supply: 220 V ± 10%, frequency: (50 ± 0.5) Hz.