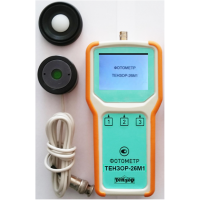 Preparing for release!
The photometer is designed to measure the candel-power of external lighting devices of road vehicles in accordance with DSTU 3649: 2010 (Wheeled vehicles. Requirements for safety and technical control methods) and other point sources of radiation in working climatic conditions:
- ambient temperature - from 5 to 40 oC;
- relative humidity - from 50 to 80%;
- atmospheric pressure - (760 ± 30) mm Hg
Basic technical characteristics
1 Range of measurement of light intensity - from 0,1 to 2,25٠105 cd.
2 Range of light intensity readings - from 0.01 to 2.25٠105 cd.
3 Limit of permissible basic error when measuring light intensity (summary) not more than ± 15.0%.
4 Range of measurement of frequency of flashes of lights of indicators of turn from 30 to 150 min-1.
5 The photometric head has an M6 thread and can also be equipped with an adapter for mounting on a tripod.
6 The device is powered by a built-in battery of galvanic cells with a voltage of 6 V.
7 Power consumption of the device is not more than 0.5 W.
8 Operating mode setting time no more than 10 sec.
9 Time of continuous operation of the device not less than 6 hours.